The Regional Arts Commission Announces
2014 ARTISTS FELLOWSHIPS
10 ARTISTS – $200,000 INVESTMENT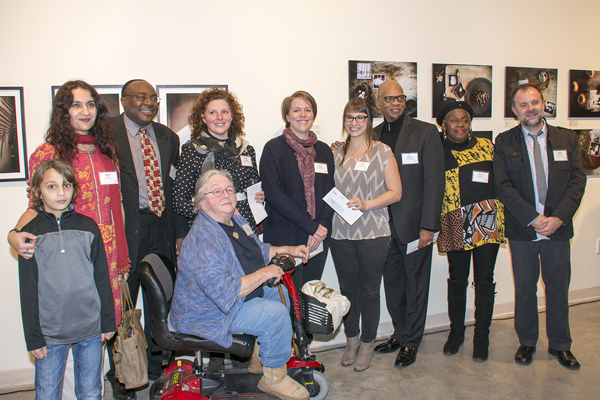 ---
"Yes, I wanted a family; and yes, I wanted to be an artist," Sprague said. "I found myself getting kind of cranky."
"That would be what my chicken paintings were all about – all those things that are and shouldn't be," Sprague said.
Nancy Fowler, Artist Mary Sprague's 'having it all' includes playing with toys, clay, life, STL Beacon, October 10, 2013
Read more.
---
At 76, painter Mary Sprague seems to be picking up speed, moving from chickens to trees to rhinoceroses like a hopped-up naturalist…The public concurs. Ms. Sprague's show several years ago of large-scale, delightful chickens, at Duane Reed Gallery, sold out.
Robert Meyerowitz, At Home St. Louis magazine, March/April 2011
---
She is a lively and openhanded mix of infectious friendliness, a woman who lives her life head-on with gusto and good humor, who clearly takes delight in the raw stuff of living.
James Yood, Mary Sprague: In Appreciation, Mary Sprague Drawings and Paintings 1960-2000. Exhibition Catalog, 2002
---
In five decades of making art, Sprague ('56, MA '63) has combined the ethereal with the earthy, a saucy abandon with a steely discipline, creating paintings of seemingly ordinary subjects imbued with mystery and meaning.
Susan Caba, Drawn and Feathered. STANFORD, March/April 2007
Read more.
---
…it can, at times, take the breath away…The work defies my attempts at written description – it must be looked at to be appreciated…
Robert W. Duffy, Art That Leaves You Breathless. Saint Louis Post- Dispatch, April 26, 1992
---
Sprague taught her students that the mind makes the drawing, not the hand. Clearly, a highly original mind made the drawings in this book.
Jack Heinz, Mary Sprague Tree Drawings Exhibition Catalog, 2008
---
Sprague uses clay with such fluidity that it gives the appearance of paint…Sprague allows her clay to function naturally, and doesn't resist its character: it slides, collapses and suffers the effects of gravity.
Andrea Powers Schankman, curator, Sum and Substance, The Gallery at the Regional Arts Commission. 2005
---
Six drawings of trees, so densely inked the paper seems three-dimensional, are pinned on her display wall. These are small, still pieces. Motion is confined to shifting light.
Susan Caba, Ruffled Feathers. American Style, April 2008
---
These chicken drawings are gorgeous and loose… Sprague's technique is both delicate and robust; always the drawings are about contrast and observation.
Margaret Hawkins, Drawings no small appreciation of chickens.
Chicago Sun-Times, May 5, 2006
---
Her talent for composition and draftsmanship are astounding.
The Riverfront Times, January 22-28, 1997
---
For people who love and know drawing, this is mark making at it's most controlled and spontaneous, it's most rich, lush, and evocative.
Sun Smith-Fôret, Mary Sprague Tree Drawings. Art Saint Louis / Art Dialogue, September 23, 2008
---
Sprague could have been a fine realist… and this work [Sink] shows the same appreciation for things as they are in the world that you find in works by artists as different as Lucian Freud and Antonio Lopez-Garcia.
David Bonetti, The artist who wanted it all. Saint Louis Post-Dispatch, July 20, 2003
---
But most important they [chicken drawings] declare the artist's powers of observation and her ability to make pictures that have a pulse.
Robert W. Duffy, Drawings That Detonate. Saint Louis Post-Dispatch, January 9, 1997
---
Mary Sprague's most recent drawings,… are distilled mixtures – blueprints that describe both physical and psychological space.
Alexandra Bellow, Layers of Meaning. West End Word, February, 1991
---
Although her belief in the bizarre and the absurd fuels a strong humorous streak, she takes her art very seriously.
Laurily K. Epstein, Words and Pictures. Voice, February 22, 1989
---
Thank God for Mary Sprague.
Ivy Cooper, Off the Beaten Path. The Riverfront Times, April 23-29, 2003
---
Art remarks
that I remember
(mostly about the
ceramics).
Mary Sprague
---
Oh, so you are making little clay objects now?
Bob Cassilly, City Museum, d. 2011
---
I don't think she can do it.
Arthur Osver, painter. d. 2007
---
Don't forget your way to the Grumbacher store.
Bob Duffy, Saint Louis Post-Dispatch
---
Are you out of your mind?
Jim Burke, Saint Louis Art Museum
---
I can't sell that shit.
Elliot Smith, a former dealer, d. 2011
---
I don't know what you are, but you're no minimalist.
Peter Marcus, studio mate
---
Never mind, she's senile.
Elisa Forgelman, studio mate
---
Your horses are better than hers.
Adam Aronson, collector, d. 2007
---
I'll take two.
Bonnie Speed, Director of the Emory University Art Museum
---
Art is a lie that tells the truth.
Pablo Picasso, who took up ceramics in his mid-sixties.
---
I get by with a little help from my friends.
John Lennon, Paul McCartney
---
Link to: Publications and Reviews.
---