An Explanation of Things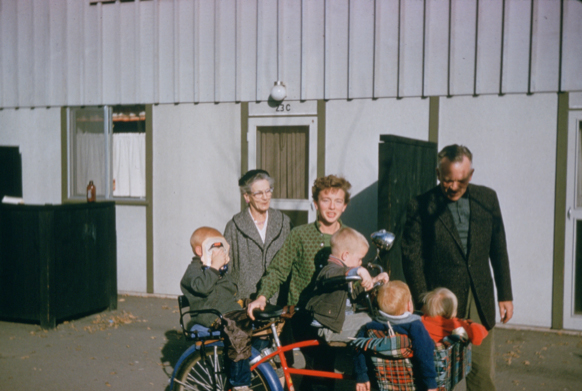 Here we are behind 23D (Escondido Village Graduate Student Housing at Stanford) with my Dad, Verne Gibson, His mom, Myrtle Gibson, me, four kids and our campus transportation, a former mail bike. Stanford was a wonderful place. Our twelve year stay provided us seven meaningful degrees and four even more meaningful children. You might say it fed our passions. John was out of this picture although he was 'in' the picture for a total of thirty-three years.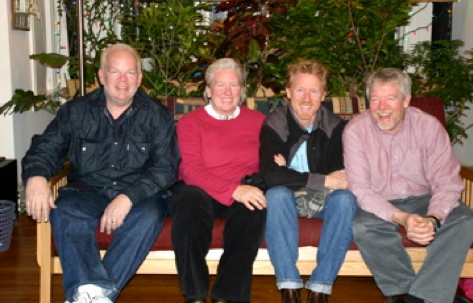 Michael, Nell, Peter Hans and Robert in more recent times. They turned out fine, thank you.
---
Ace Comb Box, 1995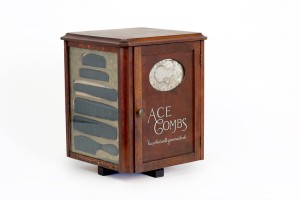 Combs used to be sold from display cases like this. In my hometown, Marblehead, MA, there was an Ace Comb Box on the counter of Ladeedah's, the unlikely named general store at the other end of our Street. Ace Combs were used by Twentieth Century Americans including James Dean and Elvis Presley. I found this box at a 1975 auction in Northern NY. I knew I needed it, but had no idea why. Its emptiness was annoying. New plastic combs never quite fit in the cutouts. Making patterns and then clay combs solved two problems; I was no longer annoyed and I knew why we needed to have this thing. We were fooling around with pit firing at camp and fired them in it. Pit firing is a primitive process that leaves the final product smaller, soft, breakable and misshapen. Perfect. It's kind of like life. They were quite fragile and colored with smudgy stove black (which rubs off). Screwing them into their spaces behind the protective glass solved the smudge problem. The irony of the motto, "Keep that clean and well-groomed look" still delights me. This piece is not great art because anyone can find an Ace Comb Boxes on E-Bay and make one too. In fact there is nothing in this show that would be hard for anyone to make – if they want to. That may have something to do with the art of it. I can explain the process, but verbal explanations of art are not possible because art is a non-verbal language. We can talk about art, but not say it.
---
Fish and Chips, 2012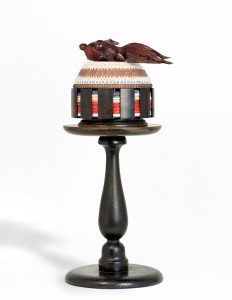 A pretty little Asian hand carved fish swims on an upended traditional wedding basket which tops a tray of decorated American poker chips decorated by the visiting Edinger girls at camp in the early 1970s. Then the poker chip case rests on a tippy little otherwise unusable Canadian table. The parts of this piece stack up so one can take them apart to set down a drink, get married or maybe play Poker. The wedding basket came from a friend who gave it to my mother. On a grand visit to Asia in the 1970s my friend's native guide gave it to her after she bought him a bicycle shop. When he showed up with a wife and four children, my friend came on home – presumably to work on her communication skills.
---
I Still Love My Crayolas, 2012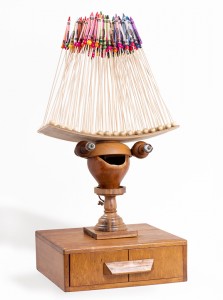 For years I resisted the urge to throw away the useless wooden drawer that now is the Crayola base. It was a small piece of furniture that wouldn't sit still when the drawer was opened. It was one of those items that one wonders why about. One neat thing, now when the drawer is opened the waxy smell of crayons wafts one straight back to childhood and under the added weight of the Grinning Crayola Guy, the drawer stays in place. My old crayons are long gone but Walmart still provides. But everything else in the piece, including the leather thong pigtail, came from home. The thong was part of a bundle of leather that Dad and I found washed up on Harris Beach in Marblehead around 1944. The carved grinning wooden bowl was a gift to my folks from a cherished friend. Though cracked, it was one of those lovable family objects that is impossible to discard. The glass eyes were a recent find at Rick Ege Antiques.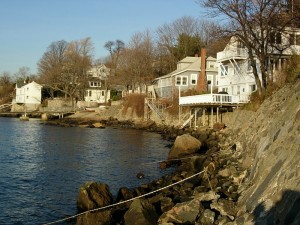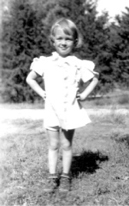 And that is Harris Beach and it is still at the end of Jersey Street. The other shot is one Dad took in 1938 at age four. Once my grandson Gibson took me across the street to meet his Atlanta pals and he introduced me as his 25,000 year-old grandmother. The photo is offered as evidence for Gibson that once I too was very young.
---
Ouch!, 2011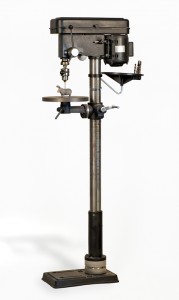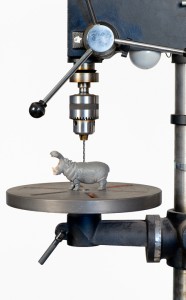 Occasionally used but mostly decorative, the drill press has been a part of my living room for about 12 years. Those twelve years were the long thinking part of this piece. There's always a long part while one waits for 'the idea.' When Ms. Hippo got on deck, I swear I heard her squeal. If you don't count the 'waiting for the idea' part, this was the fastest made piece in the show and is meant to thank Marcel Duchamp. I almost named it R. Mutt. I bought the drill press from a good friend because it was such a pleasure to look at. I have wished I had one since childhood when going to sleep listening to Dad run his power tools in his basement workshop. I've finally begun to get used to having decent tools. I had learned long ago that they were not for girls. Growing up and figuring this stuff out is such a constantly surprising luxury. The drill seemed an excessive addition at the time. Dad didn't even have a drill press. Learning to say I use it was not easy. It got a lot of use – by me – in the preparation of this exhibit. There, I said it. And I do not expect the grandchildren to really understand what that's all about. Change is good.
---
Lather, Rinse, Repeat, 2012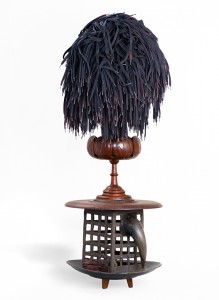 Lather, Rinse, Repeat evolved from a number of family sources. When our oldest Hollywood son, Michael, was making the web site for a television series called Friends, I needed to watch and I fell in love with the Phoebe character. It was so great when she was learning to properly wash her hair. "Lather, rinse, repeat" was her mantra. Her 'smelly cat song' is still a delight. This piece is loaded with hand-made objects from my family who all are artists. Some of them just don't know it. Starting at the bottom:
Wood feet from a living room chair in graduate student housing.
Over fired platter from Meramec kiln.
Mom's painted clay cage from a broken 1975 ceramic sculpture.
One of Dad's numerous powder horns.
Dad's 1939 lathe made Walnut platter.
Dad moved his woodpile and lathe with him whenever we were transferred. He was the lighthouse engineer for the Coast Guard and we moved a lot. This platter was made on that lathe in that shop beneath my bedroom.
The black shoelaces were from the great flea market in Union, MO. When I told the guy I was interested in his shoelaces, he asked how many I needed. "All" had to be the answer. Don't worry about him, he made $2.50.
---
Wide Load, 2012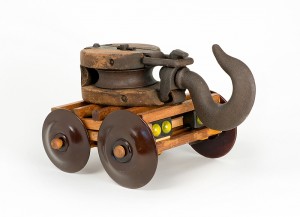 I am grateful to the friend who suggested I might be a recycler instead of a hoarder. I watch the Antiques Road Show with delight and also, sometimes, with personal terror, that show about Storage Wars. Those shows are more about prices than values.
The axles on Wide Load were my South Dakota Great Grandmother Cotter's knitting needles. The tires are lamp bases from the old Asian Arts Warehouse on Big Bend Boulevard. Sometimes their painted glass lamps broke during shipment from China. The shards were beautiful and we made a deal. I found the two iron pieces (inlaid with green and red glass look kind of like headlights) on the street. So they rest on a pair of sandwiched wooden trivets and serve nicely as headlights. Anyone know what they might have been? Anyone care? Anyone want to talk about how absurd much of reality is or how much things look like something else anyway? I mean who even knows why they hang onto trivets anymore? Or which things go with which?
---
Neighborhood Watch, 2012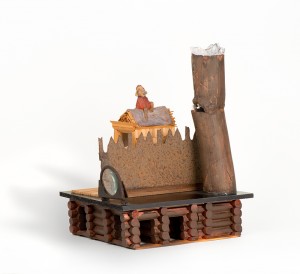 It was a sad day when Mom's little clay house sculpture smashed to the ground. I saved the biggest piece; the roof with the little guy who looked like our first landlord in Marblehead. I don't think Mom minds that I used it. Heck, she dropped it. She'd ought to be glad. I followed her lead and took up ceramics when I was 65. That's how old she was when she started working clay. So did Picasso. She thought that working the clay might help the arthritic hands. Same for me and I think it did. Some. Her little guy is talking to the tree (or it might be a tall neighbor) over the rusty saw fence from back of camp. The tree was an extrusion from an early Meramec clay class. The shingles on the little house come from leftovers at the veneer factory in Heuvelton, NY, 25 miles from camp. Grandson Parker recently objected a to my swiping the Lincoln logs from the toy shelf. I argued that electronic games have replaced his involvement with Lincoln Logs. However, it is good that he realized it was a moment worthy of remorse. When he has children I will buy more Lincoln Logs.
I'm sure they will still be available.
---
Then He Sailed Away, 2013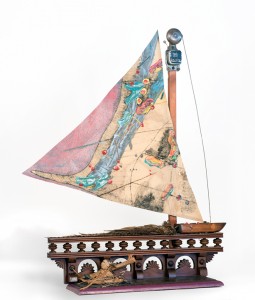 This was begun 1986, the year five of us bought the Compton studio. We gutted the building, divided it into six equal spaces (one for inside parking), and then drew straws for the spaces. There have been a few changes of personnel but finally there were three of the original settlers left, Peter Marcus, Elisa Forgelman and me. Then Peter shocked us when he moved to Rhode Island. When he left he sold me his space and asked that I destroy his old work so it wouldn't show up on the market. There were about a hundred paintings of all kinds; fish, rowboats, buildings but mostly his ingenious printed and painted abstractions. I cut up a few of them, but found it so emotionally exhausting that I hired our handyman, Steve Spencer, to finish the job. He understood what a painful thing it was to do, but needed the work. When he finished he put the piece that is the sail on my desk. "It's done," he said.
And, 27 years later, so was the 1986 sailboat.
---
Screwed Bird House, 2013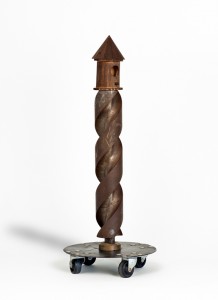 I don't remember where the mammoth drill bit came from, but it's been around a long time, maybe from before I had my kids who are in their fifties. I put it on wheels about thirty years ago and thought, wrongly, that it was finished. It wasn't until Walmart started selling little wood birdhouses from China that this birdhouse piece was actually complete. At least I it looks done to me. I think. On the other hand, a long chain would turn it into an interesting pulltoy.
---
Basket of Calm, 2012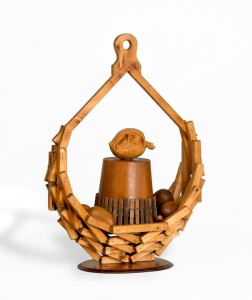 In the late 1980s, artist Scott Brandt organized a fabulous artist exchange trip to China and Japan for a group including Bill Kohn, Joan Hall, Peter Marcus, Carol Carter, John Paul Wolf. I bought this carved wooden egg man from a street vendor in Peking. Not speaking Chinese, I don't know what the vendor said but I think of him as a laughing scholar. The events at Tieneman Square three months later make me glad that I brought him home. I don't think those events would have caused my scholar nearly as much glee as his new comrades, the family sock darning eggs.
---
Hang Up At The Underpass, 2013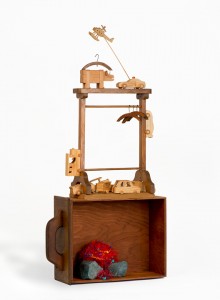 The toy wooden clothes rack and hangers showed up at a yard sale in Northern New York along with a bunch of other oversize dollhouse furniture. I meant to make a big dollhouse for my kids but we never had enough room for the project. And now they probably wouldn't want one. When I told Nell I was starting a dollhouse for my first great-grandchild, she shot back, "Thanks for the pressure, Mom."
---
My Level Headed Horse, 2012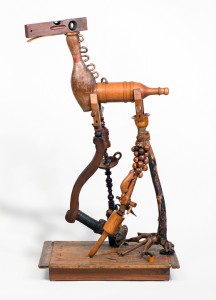 Turning pain and loss into a 'real good time' is not always as easy as it may look here. When I realized that Dad's old wood clamps and red level would make good hips and head for the Bowling Pin, there was a large moment of almost sacrilegious hesitation. I told myself that I shouldn't be scared because this was all just stuff to toss. For example, if you look you'll see the wooden candlestick that Dad made when he was young. Note the burned part from a candle left on too long. Except for educational value, this was not a real successful candlestick. He made a lot of furniture for our family with his lathe, which Mom finally gave way to her favorite California handyman. But I have many pieces of his furniture including their two four-poster beds. Dad loved his wood. When the Coast Guard transferred us (it was called 'getting orders') the woodpile was always on the moving truck. Mom said it went everywhere with us, and that was at least seven places, all on large bodies of water which had lighthouses to maintain: Detroit and Cleveland on the Great Lakes, Boston on the Atlantic, Seattle and San Francisco on the Pacific were the moves in which I participated. The base of this piece is one of Mom's lemon wood drawing boards. It would be a sin to use it this way if she hadn't worn it out. But I guess that's the point of the collection. She had another one that I use a lot. Granddaughter Mae made a watercolor on it this summer. That's four generations. Many parts of Level Headed are personal history; the granite rock from a Montana trip is in my baby shoe from Marblehead. It is causing her to limp, perhaps to fall. This might be an installation piece based on the premise of precariousness because fall she did three days after the opening.
---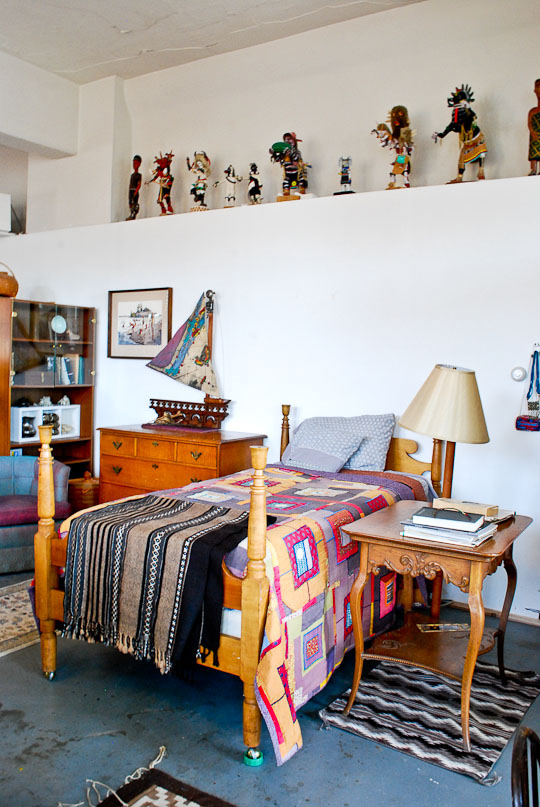 This is one of the maple beds that Dad made.
http://www.apartmenttherapy.com/marys-singular-livework-studio-house-tour-187647
Photo courtesy of Ann Manubay & Dabney Frake
---
You Were Always On My Mind, 2012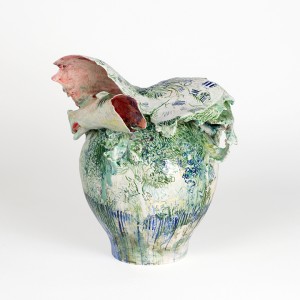 A Ceramic piece that I did while thinking of you. Tom Sturm actually threw the head shape several years ago on Amy Finkel's wheel. The rest happened later heeding Jasper Johns' advice: "Take something, do something to it, then do something else to it." Originally this exhibit was meant to be two shows, one wooden and one ceramic, for two different venues. But the parts grew together until they seemed all of a piece.
---
Warren Sauer installs the St. Udio sign in the Marcus Memorial Conference Room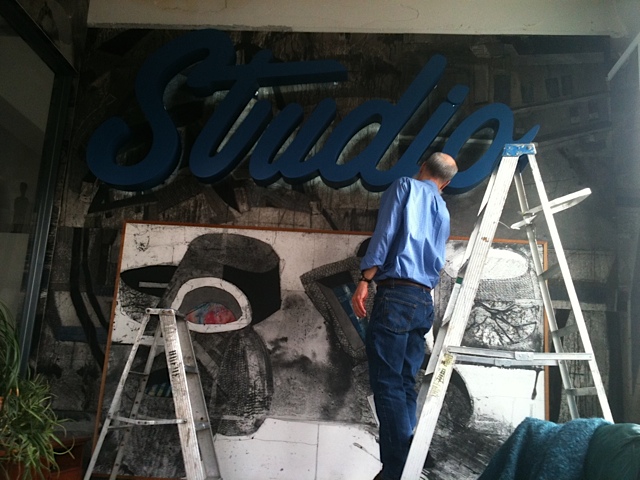 There are some things that seem rather holy to me like light, space, art, love, and friends. When Warren Sauer installed Elisa's rebuilt two-piece "Studio" sign over a Marcus painting (on the Marcus wall) we realized that if we hung the two pieces a little farther apart, they would read St Udio.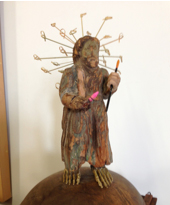 Hallelujah! A saint was born. Now I knew what to do with the old handmade de-sanctified figure from a Southwestern church. Although the little guy was not complete at the time of this writing, you can see me working hard on it in the announcement for the Duane Reed show.
---
Too Much On My Plate, 2012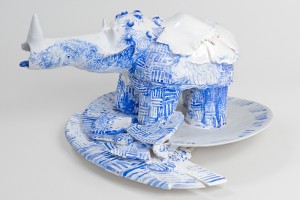 It often seems as though this title is true for many. It certainly applies to me. Most of the time all I want is to go to the studio to get something done. But there are so many things that seem to need to be done instead – like tying my shoes and going to the grocery store. One needs to 'clear the decks' of the major chores if progress is to be made. The mind presents endless reasons not to go to the studio and clutter in the mind can be a major problem. I consciously chose this life and it is never easy or straightforward. I felt that I needed a family and I also needed to make things. Being an artist and being a woman involve somewhat different references and a new set of rules. As the culture ages, more and more women will have time and space to do what is needed. What does an artist look like actually? The old model of a male figure with a beret in a garret (take your choice: Paris or NY) just doesn't fit any more. Now we all have appliances that give us time that Mother didn't have. There haven't been a lot of Medicis wandering around my place lately either. For thirty years my sponsors were the Community College District and the luck of good health. Although teaching was hard work, it was fine work.
Too Much On My Plate is an early piece meant to emulate the old blue-figure pottery from England, China and Mom's china cabinet. The plate on which the Complaining Rhino stands was one of Mother's and the subject matter was a conscious choice. Subject matter doesn't matter much, but it usually is an indication of something that does.
---
(Please Turn Up The Heat For) Ms. Pig's Solo, 2012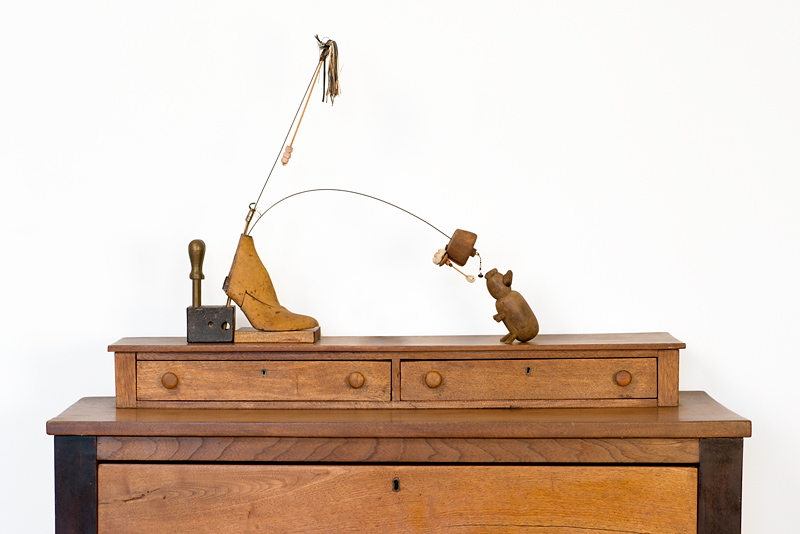 My friend, Christa, had an antique store near Chicago. She wanted some art and I needed a chest of drawers. We came to a happy arrangement. It wasn't until recently that I realized what a good stage this chest would be for some kind of arrangement. In 1955, my only female Stanford professor, June McFee, remarked, "We are always designing still lives on the top of our furniture." I wonder if she had any idea how big a feminist she was. She was one of the wisest people I've known. They let her go, of course.
The arrangement is just that, an arrangement. For thirty years at Meramec Community College, six times a week new still life setups were required for drawing classes. Since retirement this arranging and rearranging of odd collections of form has spread to the frequent changing of rooms and furniture in my 4500 sq. ft. mostly wall-less living/work space. Arranging and rearranging is a sculptural addiction, mostly attributable to females. It is designing/composing/sculpting in real time and involves abstract thinking. Ask yourself, "How many men like moving furniture?"
Originally a thermostat was centered right over the chest between Ms Pig and the recording apparatus. Hence the title.
---
Hammer Delivery (Harbor Freight), 2012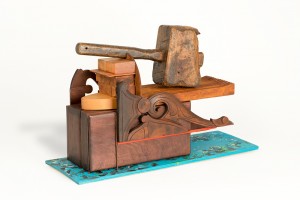 How delightful when Harbor Freight – a great place to get reasonably priced tools from China – opened a local store on Chippewa Street in South St Louis. When I grow up maybe I'll go to Sears and check out some 'real' tools, but this is fine for now. Dad, my Depression era model, did so much with so few tools that it has taken me a long time to figure out that it's possible to buy new tools without going to hell. After the drill press acquisition, buying a pin gun and chop saw at age 78 was a heady breakthrough experience. Parallel to the building of all the 'show' projects, I've been working on a number of long awaited furniture repairs. It surprises me to see how much real satisfaction comes from furniture polish. If life is a circular experience, one can make real connections from this fact. I liked furniture polish early on, but didn't put it together that it was part of an ongoing project. I'm glad I didn't die before figuring that out. A repair last summer on the Ash table made in a sophomore design class suggests that meaningful projects sometimes can last a very long time. The assignment took sixty years to complete.
---
Learn Not to Cry, 2013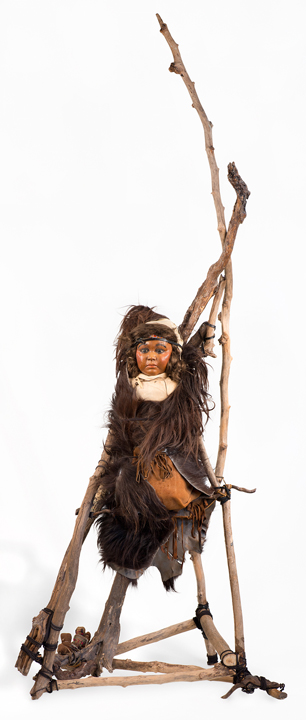 In 1962 Mom found the strange broken brown glazed porcelain doll head in a San Francisco antique store. It was a 19th Century designer's idea of how a Native American looks. Totally wrong according to 21st Century thinking in so many ways, s/he used the 'pretty white Anglo-Saxon baby face as a model. As if the design god, Kant-U-Cee was at work, the head was in pieces following a disastrous fall. The shop owner had already collected the insurance money when Mom arrived asking for the pieces. She took them home and glued them back together making it look even creepier than it already was. The awful black fur is part of a bear rug that Michael, Robert and Peter Hans dragged home. Mostly they wanted the claws which were still attached.
We are working on a book about Mom's adventures while growing up. It is based on her Memory Paintings and bears the current title A Bear On the Stair. The next illustration is an excerpt.
---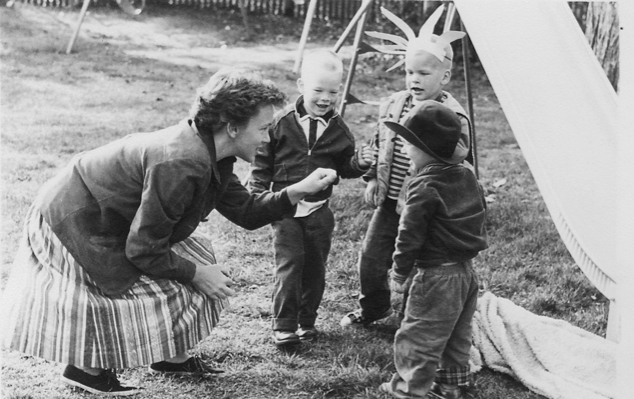 Mary with Robert, Michael and Peter at Escondido Village Nursery School 1961
There is a persistent legend about American Indians teaching their children not to cry. During the so-called "Indian Troubles" they were supposed to have tied their papooses to trees in the woods. That way the papooses could not be rewarded with attention for their crying. Thus they raised quiet children who wouldn't betray the tribe when hiding from white troops who were actively trying to eliminate them. Genocide is not just a recent phenomena. Note: this era was not all that long ago. Dad's mom, Myrtle, remembers watching the Conestoga Wagons go by the family farm in Nebraska. And Mom's Grandma Cotter had run-ins with the natives when she was homesteading in a South Dakota log cabin. Mom even made this painting called Grandma and the Indians/from the Collection: Memory Paintings about it. This whole series was shown at the Mitchell Museum, Mount Vernon, IL in 1992.
Three Generations Generating Work: featuring Catherine Gibson,
Mary Gibson Sprague and Nell Sprague Ruby.
Both of my parents were from the Great Plains and had lots of stories to tell. There are Plains Indians in our family so I guess they knew what they were talking about.
---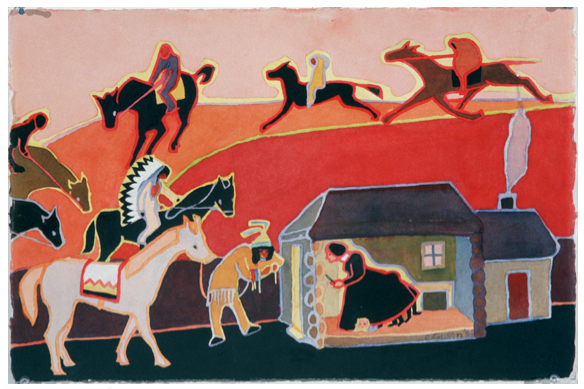 Catherine Gibson Grandma and the Indians
The kids all hid under Gramma's skirt when they thought those Indians were 'gonna get em.' All the Indians wanted was a sewing needle and knew that the pioneer women mostly all had some. If I can remember these stories being told I guess those times are not that far behind us. Or else it means that I am way old. Either way, the stories need to be told – with pictures.
Once, when I was getting the kids ready for an exhibit at Martin Schweig's Gallery and Photography Studio in St. Louis's West End, Nell asked one of her questions. "But Mom, isn't an opening like showing off?" All I could think to say was, "Oh, honey, yes. That is what I do."
---
Comments for Mary?
Send her a message. mary.sprague@sbcglobal.net
We might just publish the best ones. With your permission, of course.